Bengaluru, Karnataka Highlights: The BMTC is offering free bus services in the city from 12 am to 12 am on August 15 as a part of its mission to encourage the use of public transport. The move also comes in the light of BMTC marking 25 years of its foundation on August 15.
Covid-19 positivity in Karnataka is on a rise with only 17% of the population having taken the booster dose of the vaccine, said Health Minister K Sudhakar on Thursday. He said that while the average positivity rate of Karnataka is 7.2 per cent at the moment, Bengaluru, Shivamogga, Bagalkot and Bellary have higher positivity rates. Dharwad currently has the highest positivity rate, he added.
In other news, clashes broke out in the state's Koppal village on Thursday, allegedly due to a rivalry following an inter-faith relationship between a couple in the village, reported news agency PTI. Two persons were killed while another person has been injured. Police told PTI that the reason for the clash is being investigated.
BJP National General Secretary in-charge of Karnataka Arun Singh on Friday termed speculation regarding replacing Chief Minister Basavaraj Bommai as "ridiculous", and asserted that the party will contest the 2023 assembly polls under his leadership and come back to power in the state.
Calling the speculation as a "creation" of the Congress, he alleged that the opposition party that is divided due to infighting between its leaders, was raking up such issues to create "confusion".
"All these are tricks of Congress, it is raising such issues. It is the creation of Congress, as there is a big fight between Siddaramaiah (opposition leader) and D K Shivakumar (state president). It is a ridiculous question," Singh said in response to a question on speculation about CM replacement. (PTI)
The Karnataka Cabinet on Friday cleared the 'Karnataka Aerospace and Defence Policy 2022-27' that envisages attracting investments to the state worth Rs 45,000 crore. The policy also offers several incentives to companies and manufacturing units in the sector.
Karnataka was the first state in the country to come up with an aerospace and defence policy in 2013 and it will be valid up to January 31, 2023. "The aim is to make Karnataka a hub in aerospace and defence sectors. We want to strengthen the state's position in these sectors and encourage exports," Law and Parliamentary Affairs Minister J C Madhuswamy said, briefing the media about the Cabinet decisions.
He said, "We have made four zones and have announced several incentives and subsidies to industries in the sector." Twenty-five per cent of India's aircraft and spacecraft industry is based in Karnataka, 67 per cent of all aircraft and helicopter manufacturing for defence services is done here and the state contributes 65 per cent of the country's aerospace-related exports, according to state government officials. (PTI)
Chandramouli Ramkumar, 14, is a disappointed athlete who missed his first overseas athletic tournament because of a disorganised documentation process.
Not just Ramkumar, a 12-member contingent consisting of athletes who were supposed to be in the United Kingdom (UK) Friday for the International Children's Games (ICG) had their hopes dashed after they did not get their visas from the Visa Facilitation Services (VFS). The ICG is a major international event sanctioned by the International Olympic Committee for children aged between 12 and 15 years. This time, it is scheduled in Coventry from August 11-16. (Read more)
A youth who had immolated himself for "salvation" as depicted in Telugu horror movie 'Arundhati' succumbed to his burns at a government hospital here. Family sources said 23-year-old Renuka Prasad, a Class 12 dropout from a village in Madhugiri taluk of Tumakuru district, had watched the film about two dozen times. His parents often asked him to refrain from doing so but he never heeded to their advice.
"Just as the central character of the movie got salvation after immolation, Prasad too tried the same act by pouring about 20 litres of petrol on his body on the village outskirts," sources said. Some passersby who saw him being engulfed in flames rushed him to the nearby hospital. He was later taken to the Victoria Hospital here where he succumbed to his injuries on Wednesday. Prasad also allegedly made a video telling his father that he would get "salvation" after immolating himself. (PTI)
The Indian Institute of Science has entered into an MoU with Prashanth Prakash, founding partner of Accel and Chairman of Karnataka's Startup Vision Group, to set up a geriatrics wing as part of IISc's upcoming Bagchi-Parthasarathy Hospital. The Shantha & Prakash Geriatrics Wing is expected to be operational by the start of 2025, Bengaluru-based IISc said in a statement.
The wing will be equipped with state-of-the-art facilities in geriatrics to support academic and research programmes, and to enable PG students to undergo world-class training, it said. "It will take forward the IISc Medical School's objective of integrating science, engineering and medicine under a single umbrella to produce a new generation of physician-scientists," the statement said.
IISc Director Prof Govindan Rangarajan, Director, IISc, said despite advances in integrative medicine, long-term care including post-acute care of the elderly is a universal challenge. (PTI)
Karnataka Chief Minister Basavaraj Bommai on Friday said the state government's further action following the High Court's decision to abolish the Anti-Corruption Bureau (ACB) and restore the powers of the Lokayukta police wing, will be on the basis of BJP's 2018 manifesto. BJP in its poll manifesto had promised to scrap the ACB, which was formed by the then Congress government headed by Siddaramaiah in 2016.
"Yesterday the High Court gave its decision regarding the ACB. Keeping our party manifesto in mind, we will discuss in the Cabinet today, taking view of the instructions given in the court's order copy," Bommai said ahead of the cabinet meeting.
Speaking to reporters here, he said, "We will take further action on this, on the basis of our party manifesto." The judgement of the Division Bench of Justice B Veerappa and Justice K S Hemalekha came on a petition challenging the ACB's formation and the subsequent March 16, 2016 government order withdrawing the powers of the Lokayukta police from registering and investigating into cases under the Prevention of Corruption Act. (PTI)
Karnataka Chief Minister Basavaraj Bommai Friday paid tribute to veteran Kannada singer Shivamoga Subbanna.


Two people were killed in a clash between two communities at Hulihyder village in the Kanakagiri region of north Karnataka's Koppal district on Thursday in what police claimed was a consequence of an inter-religious relationship amid existing communal tensions in the village. Following the incident, the police imposed prohibitory orders in the region and restricted movement of people in and out of the village.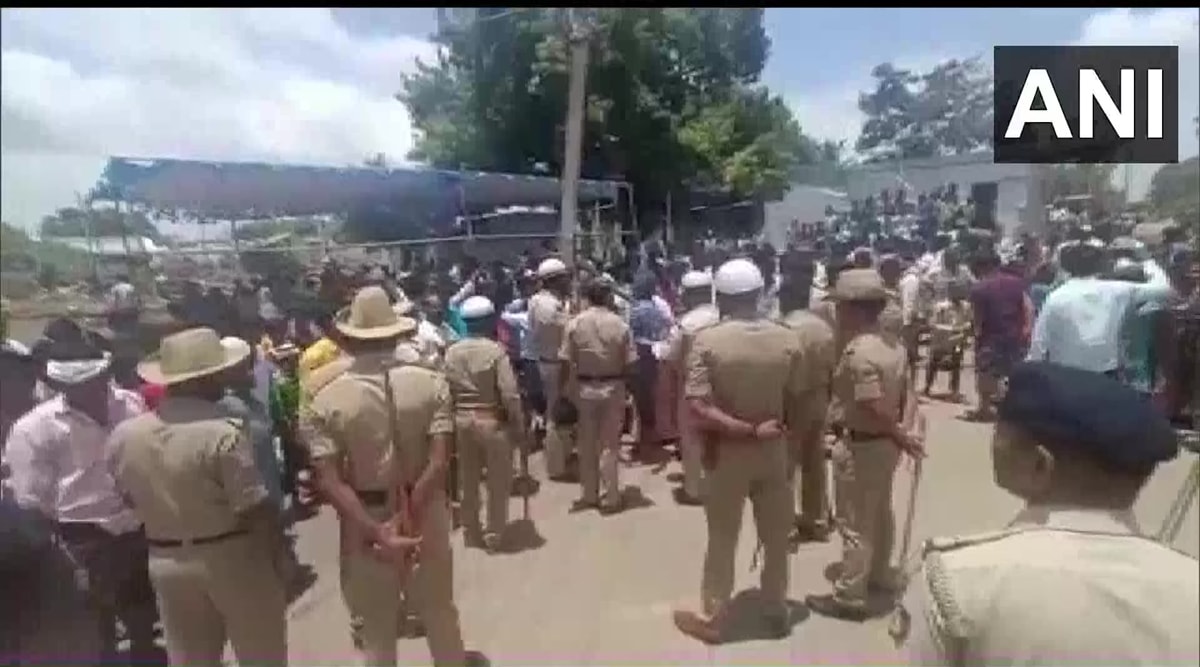 The victims who died in the clash were identified as Yankappa Talvar, 60, and Bhasha Sab, 22. As many as six persons were injured, including one Dharmanna Harijan, 20, who is critical, police in Koppal district said. (Read more)
The Bengaluru Metropolitan Transport Corporation (BMTC) has slashed its air-conditioned fleet from 834 to 373 buses owing to lack of demand, especially in the information technology belts of the Karnataka capital.
Speaking to indianexpress.com, a BMTC official attributed the low demand for buses to the fact that many IT professionals still work from home. Another official said the rising fuel costs and operational charges had also contributed to the sizing down of the air-conditioned fleet in the city. (Read more)
US Mission India Chargé d'Affaires, Patricia Lacina met with business leaders and entrepreneurs in Bengaluru to underscore the strong US-India economic and commercial ties.
Joining the Chargé in Bengaluru were US Consul General in Chennai Judith Ravin and Director of the US National Science Foundation (NSF) Dr. Sethuraman Panchanathan.
Glad to have held talks with Ms. Patricia A. Lacina, Chargé d' Affaires of the U.S. Embassy in India.
U.S tech companies have partnered with Karnataka for decades. Our Govt. looks forward to more such collaborations to strengthen business partnerships & commercial interests. pic.twitter.com/COLjujR1Nk
At a reception for commercial and business leaders on Wednesday, Lacina acknowledged the immense contributions of over 650 US companies in Bengaluru that employ tens of thousands of people in the formal sector. (PTI)
In another seizure on Thursday, officials of the air intelligence unit seized assorted foreign currency equivalent to the Indian currency value of Rs 5,97,040 from a male passenger hailing from Bhatkal who was to travel to Dubai by a SpiceJet flight.
The passenger had concealed the currency in a handbag carried by him, the communique said. (PTI)
Customs sleuths at the Mangaluru International Airport have seized 24-carat gold weighing 831 gm from a passenger who arrived by an Air India flight from Dubai on Wednesday.
A Customs communique in Mangaluru said the male passenger, hailing from Kasaragod in Kerala, was carrying the gold in paste form.
He had packed the gold in a white tape pouch and had concealed it inside a stitched pocket of the undergarment that he had worn. The seized gold is valued at Rs 43.29 lakh. (PTI)
The Indian Coast Guard in Mangaluru has collected over 750 kg of trash in a clean-up drive at Panambur Beach coastline.
Beach clean-up drive was organised at Panambur Beach coast line today @IndiaCoastGuard Mangalore #AzadiKaAmritMahotsav.
More than 750 kg trash collected.
Shri Anshu Kumar, DCP-New Mangalore was the Chief Guest. @PIBBengaluru @DDChandanaNews #HarGharTiranga #IndiaAt75 pic.twitter.com/Qrs0tEjqcx
To encourage people to use public transportation, the BMTC will be proving free bus services in the city from 12 am to 12 am on August 15.
The move also comes in the light of BMTC marking 25 years of its foundation on August 15.
Free Travel on 15-08-2022 to all travelling commuter. pic.twitter.com/RoUfUNO7ND
The 10th edition of SIIMA award show, for the year 2022, will be held in Bengaluru on September 10 and 11.
#SIIMA, The Biggest Awards in South India is back. The 10th edition is being hosted in Bengaluru on the 10th and 11th September. #SIIMA2022 will be the first ever multi language awards show for the city, making #10YearsOfSIIMA even more special. pic.twitter.com/mDIndghSmc
Three more witnesses, including two policemen, were examined in the Gauri Lankesh murder trial at the special court for Karnataka Control of Organised Crime on Thursday. Trial Judge CM Joshi presided over the trial.
Police inspector Shiva Reddy, who arrived at the murder scene was examined by the special public prosecutor and also questioned by the defence.
Reddy took Parashuram Waghmore, the accused shooter who pulled the trigger on Gauri Lankesh to the crime scene after his arrest in 2018.
A jacket and shoes similar to the ones Waghmore had allegedly used were purchased to recreate the crime scene. The defence in its cross-examination questioned the absence of bills for these purchases. (PTI)
A division bench of Karnataka High Court on Thursday ordered abolishing the state government-controlled Anti-Corruption Bureau (ACB) police and revival of an anti-corruption police unit attached to the quasi-judicial institution Karnataka Lokayukta, which works independent of the state.
The bench of Justices B Veerappa and K S Hemalekha issued the order in the course of its judgment in a series of petitions filed against the creation of ACB, following allegations of deep corruption in Lokayukta. (Read more)
Karnataka Health Minister Dr Sudhakar K Thursday urged the public to take the booster dose of the Covid-19 vaccine in the wake of a surge in Covid-19 cases in Karnataka. He said that while the coverage for the first and second doses of vaccines reached hundred per cent, for the booster dose, it is only 17 per cent.
"Covid positivity rate is on the rise in some parts of the state and I urge everyone to get their precaution dose and continue to follow Covid-appropriate behaviour. Not taking the booster dose, even when it has been made available free for everyone, amounts to negligence and we as responsible citizens must avail booster shots to enhance immunity," the minister said during a press conference after holding a meeting with the technical advisory committee (TAC). (Read more)
Two persons were killed in a clash between two groups in Hulihaidar village here, police said on Thursday. One more person is said to be seriously injured and is undergoing treatment.
The deceased have been identified as Yankappa Talawar (60) and Pashavalisab Maligaddi (22), while the injured is said to be Dharmanna Harijana.
While police said the reason for the clash is being investigated, some local residents said rivalry following an inter-faith relationship between a couple in the village was the likely cause. (PTI)
Good morning Bengaluru!
Welcome to the live blog from Bengaluru where we bring to you the latest updates on Basavaraj Bommai, Karnataka politics, BBMP and more across Bengaluru and Karnataka. Follow the blog and @IEBengaluru to stay up to date with the state in real-time.
Here are a few contacts that might come in handy for you in emergency situations:
COVID-19 related queries / emergencies / clarifications: 104 (toll free); +91-80-4684-8600/6669-2000 | Home Quarantine-related queries: Telegram messenger/WhatsApp – +91 97777 77684, Voice call – 080 45451111 | BBMP control room: 080-22221188 | In case of power disruptions, contact BESCOM: 1912. If the water supply is hit in your area, contact BWSSB: 1916