Situated on the outskirts of Mumbai, AjnaLens is a mixed-reality startup started by three IIT-Bombay alumni in 2014. In fact, AjnaLens claims to be the first XR hardware OEM to manufacture augmented reality glasses 100% in India, according to Co-founder and CTO, Abhishek Tomar.
"We are building next-generation, modern warfare-related technologies in association with the Government of India, in order to make our defence force self-reliant and less dependent on foreign imports," said Abhishek.
This involves enhanced training of soldiers through haptics-based VR courses that allow soldiers to train in real-time simulations. AjnaLens has also indigenously developed an advanced see-through armour system named AjnaESAS, which enables the tank crew to have a 360° field of view from inside the tank and keeps drivers informed and safe.
"We have a mixed reality headset which is a mix of AR & VR, it does eye tracking, time and space tracking as well with haptic gloves – rather than just a controller," Tomar told us. "When you are touching or interacting in the virtual world through the XR headset, you can interact exactly as you would in the real world. We have a platform called AjnaVidya, where we teach and give developers and creators an SDK – it's just a drag & drop system, no coding required. We provide the SDK in such a way that developers can create any type of virtual experiences," he claimed.
In terms of the manufacturing and training of the hardware and software kit AjnaLens has built, Tomar emphasized how it's all being done within India, with the aim to help upskill ITI students. In fact, AjnaLens and Tata Technologies have digitized around 150 ITIs in Karnataka.
"They learn SOPs of manufacturing related to the assembly of any electronic component. We train them through our glasses, and after the training, they can start the assembly of our glasses in India, even in Maharashtra," he said. Apart from this, SOPs for welding, painting, other assemblies, and embedded manufacturing are also done on a virtual platform as per Tomar.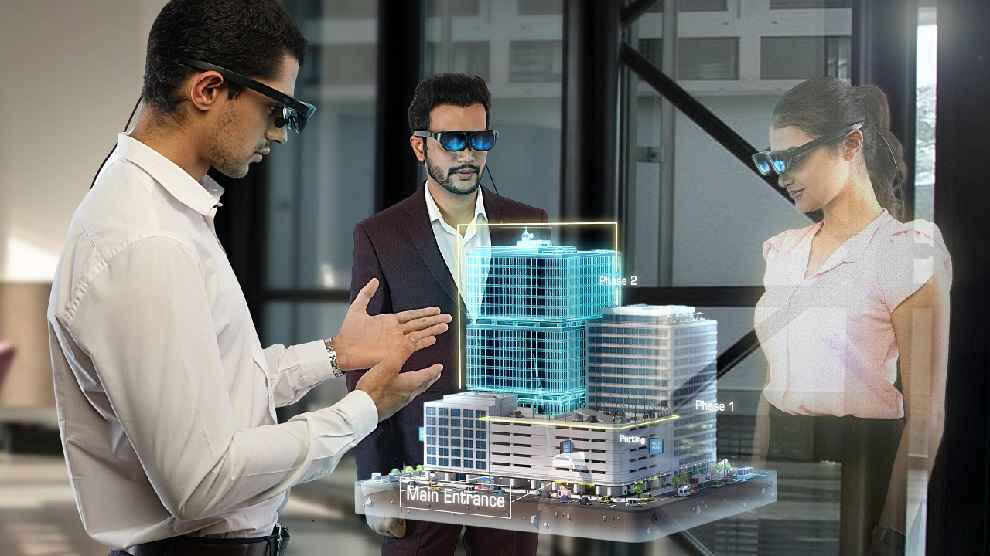 All this virtual training isn't for nothing, there are real jobs at the end of the AjnaLens rainbow, emphasized Tomar. As many as 10,000 students are being trained by AjnaLens right now, a number that's expected to reach 50,000 by the end of the year.
Tomar explained, that their courses are based on hands-on learning and that all courses are provided with an industry partner's certificate. It's like a master class as well as they get the certificate that they have a practical experience on real tools through AjnaXR, the startup's phygital-based training. "Students can use whatever real-world tool they use in the XR space which can track almost everything, their hands, any object they are holding – whether it's a plumbing tool or electrician's gauge or something else. For example, in our Metaverse training course, trainees' hands will be tracked and they don't need to replace them with any controller, they can use their hands as is inside our simulators. This helps build muscle memory because they're working on actual virtual machines," exclaimed Tomar.
AjnaLens laucnhed their first product last year and their courses are designed in consultation with companies who are looking for this trained workforce from the very first day, as per Tomar's claims. They are working with Tata, Vedanta, Mahindra, L&T and the defense sector within India. They're also working with a few companies in the Oil & Gas refineries sector in the Middle-East, opening an office in Dubai just a few months ago.
For more technology news, product reviews, sci-tech features and updates, keep reading Digit.in.

Email Jayesh Shinde
Follow Us

About Me: Cower, puny human, for I am Big Daddy! The ground rumbles beneath my feet, the very air you breathe resonates to my primal roar. Mere mortals, I am the scourge of the n00bs, destroyer of worlds. Fear my might, tremble in my presence. Read More
Digit.in is one of the most trusted and popular technology media portals in India. At Digit it is our goal to help Indian technology users decide what tech products they should buy. We do this by testing thousands of products in our two test labs in Noida and Mumbai, to arrive at indepth and unbiased buying advice for millions of Indians.
We are about leadership – the 9.9 kind Building a leading media company out of India. And, grooming new leaders for this promising industry.