NEW DELHI: The Common University Entrance Test (CUET) through which admission to all 45 central universities will be conducted from this year is being promoted as the policy decision that will finally make university admissions fair, offer a level playing field. School authorities and educationists disagree.
They fear the test – the first CUET is scheduled for July – will further marginalise students from remote areas with excessive centralisation, further encourage the boom of private coaching centres and relegate schools to just a medium for qualifying CUET. They also fear that by pushing the National Council of Educational Research and Training (NCERT) syllabus through CUET, the Centre might force state-run schools to change syllabi, especially in the social sciences.
"Anywhere centralised admissions is problematic. It obviously has to address the knowledge of people living in different parts of the country. Objectivity is also a problem. In social sciences, understanding of perspectives is all that is tested of the person and there is no one correct solution," said Disha Nawani, professor at the centre for education, Tata Institute of Social Sciences (TISS), Mumbai.
Plus, the exam only gives the impression of fairness. "The argument is that regardless of what schools you go to, you are treated equally. It gives a semblance of impartiality, equality and fairness but actually it's not. Two people from very different locations being treated absolutely alike but the exposure each got is different, the education they got is different,"
said Nawani.
M Jagadesh Kumar, chairman, University Grants Commission (UGC) told The Indian Express that the CUET questions will be based on the Class 12 NCERT syllabus and that the syllabus is "widely accepted".
While the NCERT pattern is followed by the states, the textbooks themselves differ enough to be of consequence.
"We don't follow NCERT syllabus. Some of the boards such as Andhra Pradesh are following NCERT syllabus. So, by the time the children appear for these exams, our board students might not compare with those of other boards. Since the syllabus is different, then how can these students be expected to learn from textbooks given by the state government?" asked John Arokia Prabhu, vice president, Tamil Nadu Private Schools Association.
Also Read| Kerala higher education reforms to ease regulations, fix exam process
Even in the boards that follow the NCERT pattern, teachers said the courses are "diluted" and localised.
"Unfortunately, there is a hierarchy in textbooks as well. The NCERT is a big national organisation that has ample resources. So, if you look at their textbooks, it is especially different after 2005, they are better than the SCERT [State Council of Educational Research and Training] textbooks. Usually, the state apparatus doesn't have the wherewithal to contribute to the texts. Some states get the textbooks but by and large they just copy the textbooks and put them in the local context. That is happening even now," said Nawani.
"In Meghalaya, although we base textbooks on NCERT syllabus, the content is much less. Although both the Meghalaya board and CBSE [Central Board of Secondary Education] follow the same syllabus, the content is very different. Even in the same chapters there is such a difference. So, students will find it difficult," said Defender S Langrame, All Meghalaya SSA School Teachers Association.
Since many states insist on SCERT books in government schools, especially for social sciences, teachers believe that students will find it hard to attempt questions in CUET, more so, because many rely on textbooks in regional languages.
"Taking them to the higher level textbooks of NCERT will be a Himalayan task. There will be 60 to 65 students in a class at the higher secondary level. Among the students in the arts, only a few Class 8 or 10 students write in English. Many are depending on Malayalam textbooks. It is a disadvantage to these students," said Sakeer Hussain of Kerala Higher Secondary Principals Association. According to the official notice, the CUET will be conducted in 13 languages.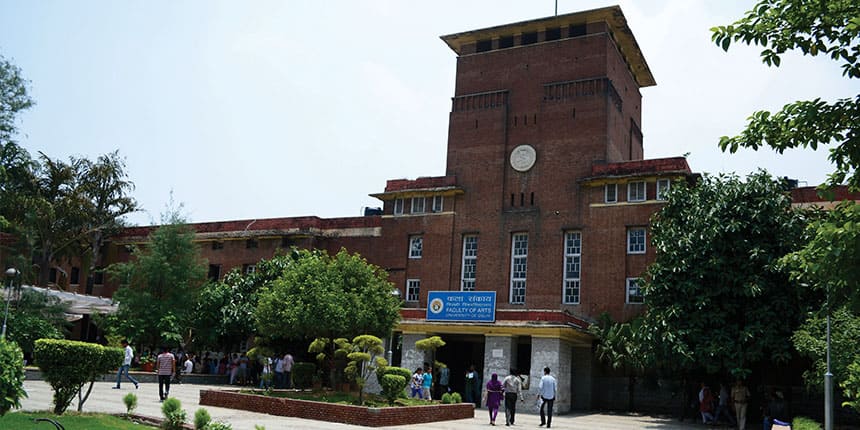 UGC has made it mandatory for all central universities to provide admission through CUET (source: Wikimedia Commons)
Teachers fear that with the centralisation of the university exams, schools will be forced to dump SCERT textbooks for NCERT to keep up with the competition.
"If the notification is implemented fully, then Meghalaya will also have to merge fully with NCERT syllabus otherwise we will be left behind," said Langrame.
"It is not only important, it will become an absolute necessity that we move to NCERT textbooks," said Hussain.
When the exams for engineering and medicine were centralised through Joint Entrance Examination (JEE) Main and National Eligibility cum Entrance Test (NEET), respectively, state boards flocked to NCERT science textbooks to give their students a better chance at the national exams.
However, this time, teachers feel that the stakes will be higher as social science textbooks of each state have important region-specific historical and cultural references woven in.
Also Read| Flyover School: University students tutor 300 children in Delhi's Yamuna Khadar
A shift to NCERT syllabus will mean that history, geography and other cultural aspects in the syllabus will be defined by the centralised National Curriculum Framework (NCF) that is being framed this year, in consultation with the states, as part of the National Education Policy (NEP) 2020.
CUET might indirectly force the states to shift to NCERT syllabus which, considering the sheer diversity of the country, might not have space for all regional history and culture.
"In social sciences textbooks, we have our complete history there. This might be the case in Tamil Nadu, Karnataka, other states as well," said Langrame.
"But then it will be against the NEP recommendations. NEP 2020 talks about the inclusion of local languages and local cultures. So we cannot inculcate those things if this (CUET) notification becomes fully functional," said Langrame.
Lack of representation has real life consequences for people in the north-eastern states. In June last year, nearly 30 student organisations from the north-eastern states urged the NCERT to include a chapter on the history of different north-eastern states following multiple incidents of racial discrimination against students from these states.
"I'm just going by what has been reported but if the exam will be based on NCERT syllabus then there is a concern that the local contexts will get lost.…But it's hard for me to fathom that SCERT will be dysfunctional. We'll have to see how this pans out," said Nawani.
Private schools affiliated to the CBSE are wondering why a common entrance exam based on NCERT was needed when the CBSE schools already follow it for the board exams CUET aims to replace. The National Progressive Schools' Conference, an association of nearly 200 leading private schools, wrote to the education ministry questioning the logic of CUET and commented that the ministry should have made "broader consultation" before making the decision.
"It has been informed that the CUET will be based on NCERT books. All CBSE affiliated schools follow the NCERT books based on which they appear for the board examination. Therefore, the need for appearing in another examination based on the NCERT books does not make much sense," the letter said.
The NPSC also pointed out that due to the large variety of syllabi across boards, the decision to bring a centralised examination might encourage
private coaching which all students cannot afford.
"The NEP 2020 envisages doing away with the culture of coaching. Unfortunately, not giving any weightage to Class 12 will encourage proliferation of the coaching culture," it said.
Schools already face the impact of coaching on science students who write the JEE Main and NEET, the national-level exams for undergraduate engineering and medicine.
Also Read| Green Campuses: Central universities becoming beacons of sustainability
"We, rural people, don't have the opportunity to spend on extra tuition. That is why it is very difficult for them to attempt such competitive exams. There are very few students from Meghalaya who are able to clear these exams," said Langrame.
"No matter what the exam is, basically you need to have a technique to clear the exams. That has always been the case. If you have a certain background, you have access to resources that others do not," said Nawani. "I don't see much of a difference between board exams and this. They are just continuing what the board exam does in which the idea is to eliminate, not select. They justify failure. All your hard work depends on the day's performance… It's not a drastic change from what they used to do. In board exams also it was about who got 0.1 percentage marks more. It is the same here."
Tamil Nadu has constantly resisted centralised exams. The state continues to oppose NEET arguing that it discriminates against students from remote areas of Tamil Nadu.
"After NEET, when students started to fail and commit suicide, Tamil Nadu started voicing their opinion against NEET. It will be similar for CUET. It will take them a few years to understand this," said Prabhu.
"For students in rural areas, coaching might not be affordable even if it is affordable it might not be up to the standard. There are 38 districts, you cannot see all the districts as par because there are only two or three metropolitan districts here. Other districts may not have such good teachers and such good centres. Though they may have money they can't get the standard of education. If the syllabus is the same then it is possible to at least try,"
said Prabhu.
Teachers said that the idea of "one nation, one exam" – Kumar's words in an interview to NDTV – in a country with different standards and different boards is "improper".
"The children are acquainted with board exams for a decade and more as only board exam marks are counted. Now there are nearly 50 entrance exams including JEE and NEET for getting admission into different higher education institutions," said Prabhu.
"If the idea is to bring one uniform syllabus and one exam that is not a problem. But the current scenario is that there is a variety of boards, a variety of standards and one common exam, which is very improper. Children are suffering," said Prabhu.
The only solution that can bring real change is the creation of more seats. "If more seats are created then changes will come. The current idea is that resources are limited. So, we have to create a system which works with limited resources and gives the impression that it is a fair system," said Nawani. "But no exam can be fair if the people belong to different social groups that are placed in different places in the social hierarchy – class, caste, the home that you come from, the school that you go to. Everything matters. If you give one common exam, it is so unfair."
Follow us for the latest education news on colleges and universities, admission, courses, exams, schools, research, NEP and education policies and more..
To get in touch, write to us at [email protected].
Anu Parthiban|Dec 22, 2022
Shamshad Ali|Dec 22, 2022
Isha Jain|Dec 22, 2022
Team Careers360|Dec 22, 2022
Gunjan Chaudhary|Dec 22, 2022
Your brochure has been successfully mailed to your registered email id "".
We endeavor to keep you informed and help you choose the right Career path. Sign in and access our resources on Exams, Study Material, Counseling, Colleges etc.
Regular exam updates, QnA, Predictors, College Applications & E-books now on your Mobile
Copyright © 2022 Pathfinder Publishing Pvt Ltd.