CBSE 12th result on results.cbse.nic.in, cbse.gov.in, DigiLocker: The Central Board of Secondary Education (CBSE) today released the class 12 exam results 2022. The results are now available at official website – cbse.gov.in, cbseresults.nic.in. Students can also check their marks via SMS, UMANG app and Digilocker.
This year, the board recorded an overall passing percentage of 92.71 per cent. Trivandrum has emerged as the best performing region with a pass percentage of 98.83 per cent. Girls have outperformed boys by 3.29 per cent while all registered transgender students managed to pass class 12 board exams.
CBSE also announced that while equal weightage was given to both terms for practicals, in the theory section, 30 percentage weightage given to Term I and 70 percent to Term II.
Meanwhile, the board has also announced the tentative date of next year's Class 12 exams. It will be held from February 15, 2023. "In light of the lessening impact of the covid pandemic across the globe the Board has decided to conduct 2023 examinations from the 15th of February, 2023," reads the Board's press release. CBSE made this announcement along with the declaration of this year's Class 12 Board results.
CBSE Board is also likely to declare the class 10 results today, a senior official told The Indian Express. Class 10 results this year are being tabulated along the same lines as Class 12. Unequal weightage will be given to students' performance in Term 1 and Term 2 exams

She is a YouTuber, a singer, a motivational speaker, and, since Friday, a CBSE Class XII topper. Kochi resident Hannah Alice Simon, who has microphthalmia, a condition resulting in blindness for her, topped the category of students with disabilities — scoring 496 out of 500. Alifiya Khan talks to the talented topper about her preparation strategy
Delhi's private schools have fared better than government schools in the CBSE class XII exams after seven years. Though the city's class XII performance is better than the national average, its class X performance in government schools dipped to below the national average after the high of 2021. Read full report by Sukrita Baruah
Two months before Term 1 CBSE examinations in November last year, 17-year-old Ojas Dhankar was rushed to the hospital for what his parents thought was jaundice. It turned out to be leukeamia. Six months since, he has scored 81 per cent in the class 12 results declared on Friday. Ojas had to let go of his long-held IIT-JEE dream this year because he has "two more years of chemotherapy," which he "cannot do alone in another city or away from home". Read more
Kashish, 18, a student of BCM Arya Model Senior Secondary School, Shastri Nagar, Ludhiana, lost her father Ajay Sabharwal (44) to kidney infection which aggravated during Covid. Kashish Sabharwal scored 95 per cent marks in humanities stream in the Class XII board exams declared by the Central Board of Secondary Education (CBSE) Friday. Read more
Candidates who could not qualify for any exam will be given an opportunity to appear in compartment exams. The class 12 compartment exams 2022 will start on August 23 and continue till August 25. The CBSE compartment exam will be held at various locations across the country. Read more
CBSE's decision to give unequal weightage to the theory papers of both terms for tabulating Class 12 results this year drew mixed reactions from principals of affiliated schools on Friday.
LV Sehgal, Principal of Bal Bharti Public School (Ganga Ram Hospital Marg) in Delhi felt the decision is good since students the half-yearly examinations (or Term 1) were conducted at a time of uncertainty and that may have affected performance. "The final exams were conducted after the students got the opportunity to prepare well with their teachers and gain confidence," she added. Read more
A coder and a badminton player, Kiran from National Public School, Bengaluru, secured 99.6 per cent with a score of 498/500 in the CBSE Class 12 examinations results of which came Friday. According to Kiran, all she invested in was three-four hours a day, and she would jot down notes in class. The state-level badminton player wants to pursue research in computer science and become a tech-entrepreneur. Read more
Students who tested positive for Covid-19 during either of the two exams and those who couldn't appear for one exam on account of being stuck in a containment zone (or being quarantined) had their final results tabulated based on the marks scored in whichever of the two exams they were able to take. Read full report here
The Council of Architecture (COA) has declared the result for the National Aptitude Test in Architecture (NATA 2022) Phase II. Candidates who appeared for the exam can now check their result at the official website – nata.in.
– cbseresults.nic.in
– cbse.digitallocker.gov.in
– cbse.gov.in
The decisions about what to study, where to study and with whom to study are very crucial, both for students entering into the portals of university and to the university receiving the students into its fold. How to choose? Read the expert advice of a professor
Congratulating students who cleared class 12 CBSE exams, Prime Minister Narendra Modi on Friday said they should follow their inner calling and pursue subjects they are passionate about. "Congratulations to all my young friends who passed the CBSE Class XII exams. The grit and dedication of these youngsters is commendable. They prepared for these exams through a time when humanity faced a monumental challenge and achieved this success," Modi tweeted. Read full report here
The Union Minister for I&B and Youth Affairs & Sports Anurag Thakur has congratulated students for conquering their CBSE Board exams succcessfully.
Congratulations to all the students who passed the CBSE examination and got their results!
A new chapter and thrilling challenges await you; filled with learning and exploring opportunities. Best wishes to my young friends on this new journey! Well Done !
Yuvakshi Vig who got 500 out of 500 in Class 12th with her sister Tashvi Vig who got 98.5 percent in Class 10th, at Amity School, Noida in Uttar Pradesh on Friday.
(Express photo by Praveen Khanna)


Candidates who could not qualify for any exam will be given an opportunity to appear in compartment exams. The class 12 compartment exams 2022 will start on August 23 and continue till August 25. The board has also disclosed a tentative date for the Class 12 exams for the following year. The exams will begin on February 15, 2023. Read full report here
Step 1: Visit the official website cbseresults.nic.in or cbse.gov.in
Step 2: Click on the result link available on the homepage
Step 3: Log-in using credentials
Step 4: Result will appear on your screen
Step 5: Take a print out of the scorecard for further reference
Yuvakshi Vig (17) from Noida has achieved a perfect score of 500/500 in her Class 12 CBSE exams, making her the country topper. She is a student of Amity International School Noida and wants to study B.A. (Honours) Psychology in Delhi University (DU). However, she is not sure if she will be able to meet the criteria for getting admission in the college of her choice. Read her full interview with Sukrita Baruah here.
If the CBSE official websites are not loading, students can check their score cards from the UMANG mobile app, which can be downloaded from Playstore on any smartphone.


This year, the Board has accorded 30% weightage to students' performance in the Term 1 theory paper and 70% weightage to marks scored in Term 2 for arriving at the final results. However, schools are not completely satisfied with this decision.
While LV Sehgal, Principal of Bal Bharti Public School (Ganga Ram Hospital Marg) in Delhi felt the decision is good, Nirmal Waddan, principal of The Kalyani School in Pune believes that students didn't get enough practice for writing in term II exams and, thus, students were slow and not confident. Read full report by Alifiya Khan and Sukrita Baruah


(Express photo by Kamleshwar Singh)
Tanya Singh (18), a student of Delhi Public School, Bulandshahr, is the joint country topper with Yuvakshi Vig (17) from Amity International School Noida. She wants to pursue B.A. (Honours) History from Delhi University. "I want to study in either Miranda House or Hindu College. I know my Class 12 marks won't count for it but I'm not worried. I have given all my Common University Entrance Test papers and they all went very well," she said. Read her full interview here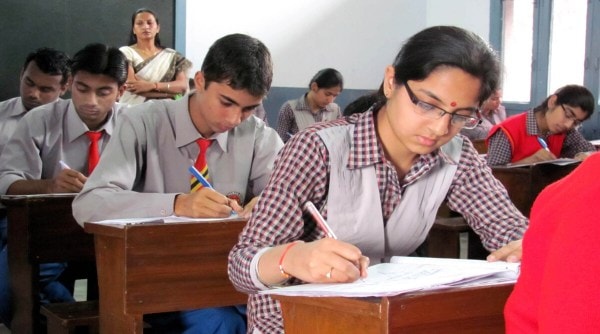 CBSE Class 12 board results declared at cbse.gov.in, cbseresults.nic.in
CBSE Class 12 result 2022 Updates: The results for term 1 were declared in March. CBSE had sent the scorecards of class 10 students to their respective schools, instead of releasing it online. The Board had also clarified that a combined marksheet of both terms will be released after the declaration of term 2 results.