Bengaluru, Karnataka News Highlights (September 17): Karnataka state government will launch a 15 day health campain from Saturday, September 17, to celebrate Prime Minister Narendra Modi's birthday. According to state health minister K Sudhakar, the campain focuses on screening of and creating awareness about non-communicable diseases (NCDs). Chief Minister Basavaraj Bommai will launch the campaign today.
In other news, rain and thundershowers are likely over Bengaluru and neighbouring areas today, according to an India Meteorological Department (IMD) forecast, along with cloudy skies. Maximum and minimum temperatures are likely to be 28 and 19 degrees respectively.
Meanwhile, an accused in the murder of Mohammed Fazil, who was killed allegedly to avenge slain Karnataka BJP leader Praveen Nettaru, has been granted bail after police and prosecutors failed to show his alleged role in the murder conspiracy.
A special court in Bengaluru on Saturday ordered the issuance of a notice under the Fugitive Economic Offenders Act-2018 to the US-based CEO of satellite communications firm Devas Multimedia Pvt Ltd, Ramachandran Viswanathan, on the basis of an application filed by the ED to declare him a fugitive economic offender (FEO).
The special court has ordered that a notice regarding the application filed by the ED "under Section 4 r/w Section 10 and 12 of the Fugitive Economic Offenders Act-2018" to be issued "against the accused Ramachandran Viswanathan under Section 10 of the Fugitive Economic Offenders Act-2018". (Read More)
The iconic Kolkata Durga Puja celebrations will come alive this time in Bengaluru as the Oikotan Hebbal Durgotsav-2022 will pay homage to 'Bonedi Baris', the traditional aristocratic households of the West Bengal capital.
Titled "Phire Dekho Kolkata", the Durga Puja at Hebbal this year will reminisce about Kolkata.
The festival, which will start from October 1, captures the iconic and unforgettable images of Kolkata seen through the lens of the Durga Puja celebrations in Bonedi Baris (traditional aristocratic households) of yesteryear Bengal, the organisers said in a statement.
"As Kolkata's Durga Puja proudly finds its way into the UNESCO Intangible Cultural Heritage list, Oikotan Hebbal Durgotsav's 10th year celebrations pays homage to this remarkable achievement by bringing a slice of Kolkata's 18th century Durga Puja celebrations to Bengaluru through an extraordinary visual experience to visitors," the organisers said. (PTI)
Safety Branch of Bengaluru Division in association with National Disaster Response Force (NDRF) conducted a mock drill to check preparedness during train accidents, the Mock drill was held at Yeshwantpur Railway Station, Sri Lakshman Singh, Additional Divisional Railway Manager (Operations) Sri K. V. Gopinath and Sr Divisional Safety Officer supervised the mock drill operations, in Bengaluru on Saturday.
In a twist to the suspected deaths due to power outage in Karnataka, Ballari-based Vijayanagar Institute of Medical Sciences (VIMS) director Dr T Gangadhara Gouda alleged that it was a pre-planned act to defame him.
Maula Hussein (35), suffering from kidney-related ailments, and Chettemma (30), a snake-bite victim, died at the state-run medical institution in the district headquarters town of Ballari on Wednesday at 9.30 am and 9.35 am respectively.
Some reports attributed the deaths to power cut and a defunct power generator at the government medical college hospital.
Speaking to reporters, Dr Gouda said: "I have heard certain audio clips related to the case. It (power outage) was pre-planned. I will collect all the details as to how they (the conspirators) contacted and connived with others and submit a report to the deputy commissioner of the district." He added that he will lodge a complaint as well.
"The power was disconnected, as I was appointed as the director (of VIMS) on August 19. I do not have a definite information as to who disconnected power. I will lodge a complaint after getting confirmation (about the conspirators)," the VIMS director said. (PTI)
Putting an end to the speculation around towing of vehicles in Bengaluru, Karnataka Home Minister Araga Jnanendra on Saturday said that the government does not have any proposals to restart the practice in the city. The government is planning to come up with a people-friendly parking facility in Bengaluru, Jnanendra said.
His statement came after Bengaluru city police commissioner CH Pratap Reddy on Friday hinted that towing of vehicles may return to Bengaluru to address traffic congestion. He had said, "we will discuss the issue with the government and take necessary steps to resume towing of vehicles." (Read More)
Ponsankari is a teacher with a difference. The 59-year-old went the extra mile to create a unique style to teach her students and make the classes more entertaining. Her sincere efforts have helped her scale great heights and win the coveted National Teachers Award 2022.
The biology teacher in Kendriya Vidyalaya (KV) in Tumkur, Karnataka, uses multiple teaching methodologies, including collaboration with other science teachers and experts such as nurses, sports teachers and old students of the school in order to make science classes more experiential and fun-loving. She also uses cartoons to break down concepts of science and make learning more practical. (Read More)
The police have arrested three more people in connection with the Karnataka Power Transmission Corporation Limited (KPTCL) recruitment examination scam, where the exam was rigged after candidates were allegedly provided answers via electronic gadgets, including smartwatches and Bluetooth devices.
Akshay Dundappa (33), a private employee, Basavaraj Rudrappa (34) and Sridhar Lakkappa (22), all residents of Belagavi district, were arrested on Friday. (Read More)
Former Karnataka minister and Congress MLA H K Patil has alleged that people claiming to be the world's "second or third richest person" have made Rs 60,000 crore from insurance business.
Patil made the remarks while speaking in the Assembly on Friday about crop damage caused by floods. "In 2019-20, the gross premium paid by the government for crop insurance was Rs 2,276 crore, but the payout from insurance companies was merely Rs 1,235 crore. The sum assured for the scheme was Rs 9,830 crore," he said. (Read More)
Chief Minister Basavaraj Bommai said steps have been taken to construct 2100 classrooms and 2500 Anganwadi Centres in Kalyana karnataka region in the current year.
Speaking after hoisting a flag at Police ground in Kalaburgi on the occasion of Amrit Mahotsav of Kalayana Karnataka on Saturday, he said the government was committed for overall development of this region and it was determined to make a dream into reality. Instructions are given to construct toilets in all government schools in Kalyana Karnataka region. As many as 68 new Primary Health Centres are being set up to improve healthcare facilities in this region. Fourteen PHCs are being upgraded as Community Health Centres.
Special schemes for women, youths
Bommai said Stree Samarthya scheme has been launched to increase the employment opportunities for rural women. Likewise, for youths, Swami Vivekananda Yuvashakti scheme too has been implemented. These projects are aimed at starting women and youth self-help groups, loans to start micro businesses, to provide seed money and to provide marketing facilities.
Karnataka Chief Minister Basavaraj Bommai Saturday announced the existing Bidar-Bellary road will be made a four-lane Express Highway.
Speaking after hoisting the flag on the occasion of Kalyana Karnataka Amrit Mahotsav in Kalaburgi, he said the proposed express highway will play a vital role in improving the road connectivity in the region. (Read More)
Karnataka state government will launch a 15 day health campain from Saturday, September 17, to celebrate Prime Minister Narendra Modi's birthday.
The campaign will end on October 2. According to state health minister K Sudhakar, the campain focuses on screening of and creating awareness about non-communicable diseases (NCDs).
Chief Minister Basavaraj Bommai will launch the campaign today.
The legislative assembly on Friday passed The Karnataka Protection of Interest of Depositors in Financial Establishments (Amendment) Bill, 2022, that envisages to make offences of the accused in ponzi schemes.
Minister for law and parliamentary affairs JC Madhuswamy said the bill enables the investigators to club multiple FIRs (first information report) against an accused into one to be tried in the special court.
The house also passed The Karnataka Land Revenue (Amendment) Bill, which extends the cut off date by one year to apply for regularisation of unauthorised cultivation of government land.
Rain and thundershowers are likely over Bengaluru and neighbouring areas today, according to an India Meteorological Department forecast, along with cloudy skies.
Maximum and minimum temperatures are likely to be 28 and 19 degrees respectively.
While new Covid-19 cases in Karnataka were 426 in number, Bengaluru recorded 230 cases. The active cases in the state and the capital were 3618 and 2480 respectively.
The Karnataka government will take up a 15-day health campaign starting from Saturday, which happens to be Prime Minister Narendra Modi's birthday, till October 2, said State Health Minister Dr K Sudhakar on Friday.
The initiative is aimed at creating awareness among the people of Karnataka starting from children to the elders, Sudhakar said in a statement. (PTI)
As the Karnataka government has directed encroachments on Bengaluru's storm-water drains be demolished in the wake of the recent floods, experts suggest referring to the base village maps from the 1880s and 1920s as well as 1958s to avoid ending up buying properties that are on lakes, tanks or the drains.
Urban experts say buyers should also check the kharab land (wasteland) classification. B-Kharab refers to non-cultivable land including forest land, parks, tanks, lakes and drains and cannot be converted by private parties. This land, where all development activity is prohibited, is said to be encroached on by private builders. A-Kharab plots, classified as unsuitable for agriculture, are reserved for school and government buildings. Read more…


An accused in the murder of Mohammed Fazil, who was killed allegedly to avenge slain Karnataka BJP leader Praveen Nettaru, has been granted bail after police and prosecutors failed to show his alleged role in the murder conspiracy.
Harshith (21), who was granted bail by a sessions court last week, is among eight people accused of killing Fazil (23) in Mangaluru on July 28, two days after read more
Karnataka Chief Minister Basavaraj Bommai on Friday kicked off the electric two-wheeler vehicle distribution drive for sanitation workers and said the scheme has been extended to ten municipal corporations in the state. (PTI)
The Bangalore Metropolitan Transport Corporation (BMTC) has not purchased electric buses but is running them on a gross cost contract (GCC) basis, said Karnataka transportation minister B Sriramalu on Friday. He was responding to a question by Congress MLA Tanveer Sait who asked the number of electric buses inducted into BMTC and their maintenance cost. Read more here
Australian airlines company Qantas on Wednesday launched their new airline route from Bengaluru to Sydney, establishing the first direct connection between Australia and south India by any airline.
QF67 will cut nearly three hours off the current fastest travel time between the two cities and aims to significantly boost connectivity between India and New South Wales in time for the upcoming school holidays. Know more…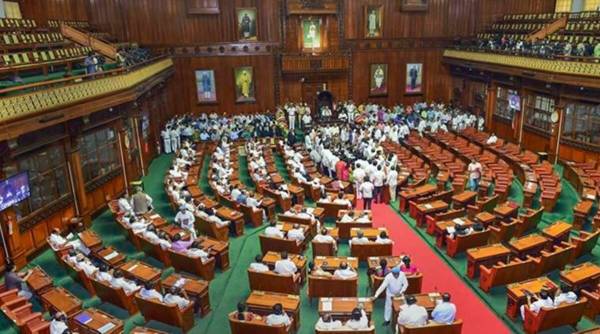 Home Minister Araga Jnanendra piloted the Bill for the consideration of the Upper House today. (File)
The Karnataka Legislative Council Thursday passed the contentious anti-conversion Bill tabled by the state's BJP government amid objections by the Congress and JD(S).
The Karnataka Right to Freedom of Religion Bill had been cleared by the Assembly on December 23, 2021 but was not introduced in the Upper House as the BJP lacked a clear majority at the time.
In May 2022, an ordinance was issued to facilitate the introduction of the anti-conversion law. On Thursday, the Bill was introduced during the Monsoon Session with the BJP now enjoying a clear majority of 41 members in the 75-member Council. The Congress has 26 members and the JD(S) has eight.
Three patients admitted at the intensive care unit (ICU) of a government-run hospital in Karnataka's Bellari died allegedly due to a power outage on Wednesday. Hospital authorities denied the allegation and the government has ordered an investigation.
Maula Hussain, 35, Chettamma, 30, and Manoj, 18, were on ventilators at the Vijayanagara Institute of Medical Sciences (VIMS) at the time of the power outage. The deaths of Hussain and Chettamma were announced on Wednesday evening, and Manoj's death was announced on Thursday.