Bengaluru, Karnataka News Highlights: Slain journalist Gauri Lankesh's sister Kavita and mother Indira joined Rahul Gandhi in the Karnataka leg of the Bharat Jodo Yatra today. Gauri was murdered on September 5, 2017; the trial in her case is still going on. Gandhi will also be briefing the media at 1 pm tomorrow.
Meanwhile, Chief Minister Basavaraj Bommai on Friday announced that the reservation for STs in the state will be increased from the existing three per cent to seven per cent. This will be done to ensure that reservation for STs in Karnataka will be on par with Central government norms, he said. He added that reservation for SCs will also increase from the existing 15 per cent to 17 per cent.
In other news, Karnataka Pradesh Congress Committee president DK Shivakumar appeared before the Enforcement Directorate (ED) in New Delhi on Friday in connection with the Young Indian and National Herald case.  This comes after the agency rejected Shivakumar's request seeking to extend the date of his appearance. Shivakumar said he would honour the summons and appear before the ED along with his brother DK Suresh, a Congress MP, Friday, October 7.
The South Western Railways (SWR) has renamed the Tipu express as Wodeyar Express.
The SWR on Friday said that it has renamed 12613/12614 Mysuru – KSR Bengaluru – Mysuru (Tipu Express) as Wodeyar Express.

SWR also said that the 16221/16222 Talaguppa-Mysuru-Talaguppa Express will be named as Kuvempu Express.
Chief Minister Basavaraj Bommai on Friday released a logo for the Mahakumbha Mela of South India to be held at Triveni Sangama in K R Pete taluk of Mandya district from October 13 to 16.
A special logo has been prepared for this event to be held in Ambigarahalli, Sangapura in K R Pete where there is a confluence of Cauvery-Hemavathi-Lakshmantirtha. There will be Gangarathi, along with various other religious and cultural programs daily.
The CM collected information about the Mahakumbhamela and issued instructions to make the special arrangements as lakhs of people are expected to participate in it.
Minister for Sericulture, Youth Empowerment and Sports Dr.Narayanagowda, MLC C P Yogeshwar, MLA L Nagendra, Mandya DC S Ashwathi and others were present.


(Express photos by Jithendra M)
An all-party meet was organised to discuss Justice Nagamohan Das Committee's report on SC-ST reservation, at CM Basavaraj Bommai's home office in Bengaluru.
In pics: CM Bommai with former CMs Siddaramaiah and H D Kumaraswamy.


(Express photos by Jithendra M)
Biocon Foundation, the CSR arm of the Bengaluru-headquartered Biocon Limited, has been conferred with the 'Mahatma Award 2022 For Excellence in Social Good'.
The awards were presented on the eve of the birth anniversary Mahatma Gandhi in New Delhi.
Mahatma Awards were founded and instituted by social entrepreneur and philanthropist Amit Sachdeva, better known as 'The CSR Man of India' and are supported by Aditya Birla Group.


Professor B Thimmegowda, vice-chairman of Karnataka Higher Education Council, Friday said that a cybersecurity course would be a compulsory subject in all degree courses from the next academic year.
He made the announcement on the sidelines of Cybersecurity Awareness Month Programme 2022, which was formally launched by Dr C N Ashwath Narayan, Minister of Higher Education and Information Technology.
Thimmegowda said that the new cybersecurity course in the higher education sector would come into force apart from the existing Information and Technology and Computer Science courses. Read more
A head constable, who stole Rs 10 lakh from a businessman in Karnataka's Bengaluru city in the name of interrogation, has been arrested, police said.
Mahendra Gowda, a head constable attached to the Chandra Layout Police Station in Bengaluru, was arrested Thursday and further investigations are underway. The victim in the case is Lingesh, an agriculturist and realtor.
According to police sources, Lingesh had befriended one person named Pradeep recently. When Pradeep had called Lingesh over the phone few days back, he said that Rs 2,000 notes will be banned in the next few days and one of his friends has several crores which are in Rs 2,000 denomination. Pradeep said that his friend is ready to pay 10 per cent commission if someone is willing to exchange it with Rs 500 currency. Read more here


Rahul Gandhi, who is currently on the Karnataka leg of the Bharat Jodo Yatra, was joined by slain journalist Gauri Lankesh's sister Kavita and mother Indira on Friday.
Gauri stood for Truth
Gauri stood for Courage
Gauri stood for Freedom
I stand for Gauri Lankesh and countless others like her, who represent the true spirit of India.
Bharat Jodo Yatra is their voice.
It can never be silenced. pic.twitter.com/TIpMIu36nY
Criminal Investigation Department (CID) has arrested KR Puram traffic police sub-inspector Subramani in connection with PSI recruitment scam. According to the police officials Subramani's role was established in the early stages of the case and was absconding when a case was filed in high grounds police station. A CID officer said that Subramani had collected money from some of the job aspirants and had given it to the recruitment wing of police. Their OMR sheets were also forged and one of the accused who was arrested had revealed the name of Subramani then.
After getting to know that he was in the radar of CID, Subramani fled to north India and traveled to various states. Assuming that the probe has cooled down, he came down to Bengaluru and police arrested him.
The CID police have taken Subramani to 10 days of police custody.
Following an all party meeting, Chief Minister Basavaraj Bommai says that reservation for STs will be increased from the existing three per cent in Karnataka to seven per cent.
The Act will be amended in the upcoming Legislature session at Belagavi. The move will be cleared in a special Cabinet meeting scheduled tomorrow.
"This will ensure that reservation for STs in Karnataka will be on par with Central government norms", Bommai said. He added that reservation for SCs will also increase from the existing 15 per cent to 17 per cent
Rahul Gandhi escorts Indira Lankesh back to her car at Begamangala Gate. Kavita is still marching with the Congress leader.
Indira and Kavitha Lankesh, mother and sister respectively of slain journalist Gauri Lankesh have joined Rahul Gandhi's march in Karnataka today.
It seems to be a long road ahead for eight proposed protected areas to get Karnataka government's nod. While the State Board for Wildlife (SBWL) has approved eight proposals for the declaration of new protected areas, official documents accessed by The Indian Express show that the government has been sitting on them since 2019.
Although the board, headed by Karnataka Chief Minister Basvaraj Bommai, has already approved the proposals, the delay is attributed to a 2019 rule that mandates Cabinet approval for the addition and deletion of areas to wildlife sanctuaries and eco-sensitive zones.
Senior forest officials and wildlife conservationists have expressed their reservations over the issue of seeking Cabinet approval when the SBWL, headed by the CM, has already approved the proposals. Aksheev Thakur reports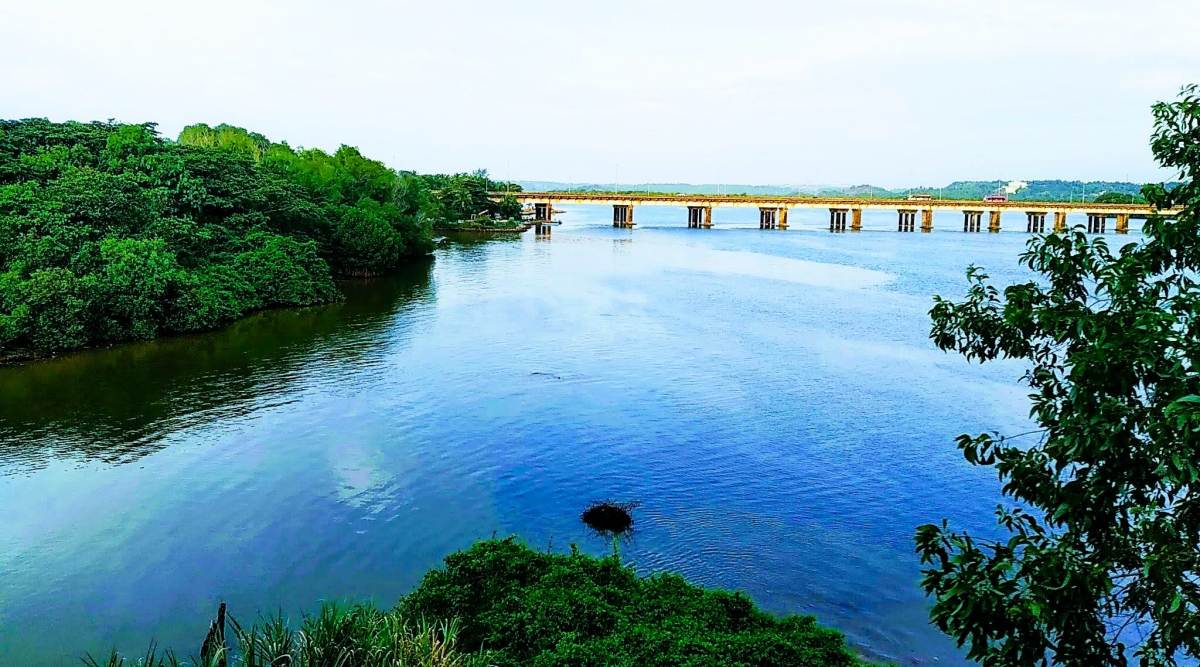 The child lifting rumour in Karnataka has taken the life of a 33 year old Jharkhand man after a mob attacked him in Bengaluru's Ramamurthy Nagar. KR Puram police have arrested six persons in this regard.
The deceased has been identified as Sanjay Tudu who worked as a mason in Ramamurthy Nagar. According to the police sources, the incident took place on 23 September but after the incident in Hoysala, a police patrolling vehicle had taken Sanjay after the mob attacked him. But his body was found in KR Puram police limits a day later.
A police officer said, "The unidentified body was found in KR Puram limits on September 24 and it took us eight days to identify the person. We managed to contact Sanjay's wife. On October 3 a postmortem was conducted and the body was handed over to the family members. On Thursday, we got the post mortem reports which indicated that Sanjay was assaulted and there were a lot of external and internal injuries. We converted it to murder case."
During the probe, it was revealed that Sanjay was attacked by a mob mistaking him as a child lifter on September 23 night and was severely assaulted by the public. Later, Hoysala police came to the spot and took Sanjay to their custody. But later, his body was discovered in KR Puram limits.
Deputy Commissioner of Police (Whitefield) Girish S said, "As there were no serious body injuries found on the unidentified dead person a case of 174(C) was taken up at KR Puram police station. Further investigation revealed that he was actually lynched by members of public of Ramamurthy Nagar thinking that he was a child lifter. In this connection KR puram police registered a case of 302 (murder). Six persons have been taken into custody for questioning."
Many have raised suspicion regarding how Sanjay ended up dead despite Hoysala police having taken him into custody. Girish said that if there were any lapses on the police part is being enquired by the Deputy Commissioner of Police (East). A police official said that the staff who were on patrol are being questioned presently.
The rumours of child lifters has been doing rounds in Karnataka for more than a month and there have been several instances of attacks in various places, especially in Belagavi region. In September, a few Sadhu who were heading from Uttar Pradesh to Rameshwaram were attacked in Gokak of Belagavi district suspecting they were taking away a 10 year old boy.
Similar incidents were reported in Bailhongal, Kittur, Zunjawad K Nandagad and in villages of the district. The rumours were spread across social media stating that children were being kidnapped to sell their body parts.
In 2018, a similar incident was reported in Bengaluru after an angry mob killed 26 year old Kaluram mistaking him as a child lifter. The video of lynching Kaluram had went viral triggering outrage.
The debate on the imposition of Hindi has resurfaced in Karnataka after the Staff Selection Commission (SSC) recently notified that the Combined Graduate Level Examination-2022 will be conducted only in English and Hindi.
After Kannada language activists raised objections to the same, JD(S) leader and former Karnataka chief minister H D Kumaraswamy on Friday expressed his reservations over the "language discrimination" being practised by the central government. In a tweet, he pointed out that SSC was conducting exams only in two languages to fill 20,000 vacancies.
"Selected candidates can be deputed to any state. There is no option (to attend the exam) in Kannada or any other regional language. Do we need more proof for Hindi imposition and language discrimination?" he said. Read more.
Karnataka Minister for Health Dr K Sudhakar has announced that 438 health and wellness centres or Namma Clinics will be operational in the state by December 15. As many as 243 of the clinics are being set up within the Bruhat Bengaluru Mahanagara Palike (BBMP) limits, he said while addressing reporters on Thursday.
Sudhakar also visited the model Namma Clinic established at Mahalakshmipuram in Bengaluru. "Each Namma Clinic will consist of a doctor, a nurse, a lab technician and a group D employee. The process of appointing 160 doctors has been completed and the BBMP has issued a notification to appoint the remaining doctors for its Namma Clinics. Appointments are expected to be completed by the end of this week," he added.
"The programme focuses on addressing the healthcare needs of the urban poor, especially those falling below the poverty line and people living in huts. Each ward in the city will consist of at least one Namma Clinic and will operate like PHCs (primary health centres). In addition to providing healthcare, Namma Clinics will focus on creating awareness about government healthcare schemes. PHCs, in accordance with the population, exist in rural areas. However, there aren't enough government healthcare centres in urban areas to cater to the population, hence this new scheme has been launched," Sudhakar said. Read more.
Chinese consumer electronics company Xiaomi Technology India Private Limited has once again approached the Karnataka High Court.
In a petition filed on October 3, the company has challenged the September 29, 2022 order of the Foreign Exchange Management Act (FEMA) Competent Authority which confirmed the April 29 seizure order of the Enforcement Directorate (ED).
The ED had earlier this year ordered the seizure of Rs 5,551.27 crore in the accounts of Xiaomi for allegedly violating FEMA rules and transferring money in the guise of royalty to three companies outside India. (PTI)
Karnataka Congress president D K Shivakumar on Friday appeared before the Enforcement Directorate here for questioning in the National Herald money laundering case. Shivakumar, 60, told reporters before stepping into the ED office at A P J Abdul Kalam Road that he was a "law abiding citizen" and hence he was deposing before the federal agency despite not knowing why was he exactly called. (PTI)
Karnataka Congress Chief DK Shivakumar, who is set to appear before the ED today, said he left the Bharat Jodo Yatra mid-way after the agency refused to extend the date of his appearance.

Delhi | I've been summoned by ED. I requested them to call both me & my brother DK Suresh after Oct 23 but concerned officer directed us to present before him nonetheless. So we left yatra in middle & reached here: Karnataka Cong Chief DK Shivakumar before leaving for ED office pic.twitter.com/XTbaqntJfI
Scan QR codes at Bengaluru traffic junctions, get emergency medical care
In an attempt to provide first-aid care and cardiac medical services, the Bengaluru traffic police and civic body Bruhat Bengaluru Mahanagara Palike (BBMP) along with Manipal Hospitals have posted QR codes at traffic signal junctions in the city which can be of great help during medical emergencies.
Manipal Hospitals, in a statement, said that these codes can help the person connect to the emergency number at a single click, and the person will be directed to ambulance services.
A week after World Heart Day, the initiative has been launched to enable first aid such as Cardiopulmonary Resuscitation (CPR) and also other emergency services. The code explains the steps to be followed to help revive the affected person, it said in a statement. (Read more)